Mountain Shadows Elementary
Home of the Cubs



---
Notice:  You will always be
asked to show your photo ID
when checking out your child
during the school day.
Please plan on this before coming in.
Daily Schedule
AM Kndg. M-Th 8:25 - 11:10

PM Kndg. M-Th 12:25 - 3:05

1st - 6th Grade  M-Th 8:25 - 3:05
Nutrition Service Position
We are looking for a 10 hour nutrition service worker from 11:15 am to 1:45 pm Monday - Thursday. If you're interested please apply at https://employment.jordandistrict.org
Classic Skate Night
When: Thursday, April 22  5:00 pm - 8:30 pm.
Where: 9151 S. 255 W., Sandy Utah
Sponsored by Mountain Shadows Amazing PTA
PTA Chocolate Fundraiser
Our school PTA is having a chocolate fundraiser that runs from March 4 - 24, 2021. Pick-up times for chocolates are Tuesdays and Thursdays after school.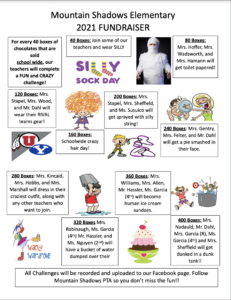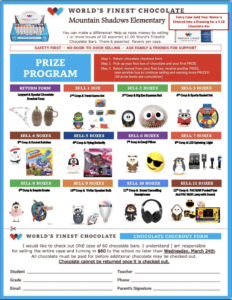 Dear Families,
It's time for the PTA Fundraisesr!
We are selling World's Finest Chocolate for our PTA fundraiser. The funds that are raised support all the activities the PTA does. This includes Halloween and Valentines goodie bags, STEM and Literacy night, Teacher Appreciation, Reflections, Red Ribbon Week, etc.
As always, you can donate money instead of selling chocolates. For prizes, one box of chocolate equals $30. You can donate here: https://mountain-shadows-elementary-pta.square.site
Each box comes with 60 chocolate bars, and the bars will be sold for $1 each. Mountain Shadows PTA will get 50% of the profit. Each box contains:
18 Caramel bars
12 Milk chocolate with almonds bars
12 W.F. Crisp bar
6 Wafer bars
6 Milk chocolate bars
6 Dark Chocolate bars
Our fundraiser will start Thursday March 4th, and will end Wednesday March 24. Students can pick up chocolates outside, on the east side of the school (weather permitting), on Tuesdays and Thursdays after school. We will also have a drive through for online families from 3:30 - 4:30 on Thursdays. Our last drive through will be March 25th.
Online families can fill out the permission form here: https://forms.gle/MT1iXk7HSHK6HQsRA
Students will bring a signed permission slip, and will get a box of chocolate. After selling the chocolates, they will bring the money back ($60 per box) and they will get the prize. If students want a second box, please bring back the completed envelope (signed permission slip) that is inside the box.
We encourage everyone to pay with a card, check, or larger bills, but we will accept cash and coins. Please make checks out to Mountain Shadows Elementary PTA. For cards, we will have a card reader or you can pay online at https://mountain-shadows-elementarty-pta.square.site/
Due to Covid, left-over chocolates cannot be returned if they are not sold. 
Check out the prize page and fun things our teachers will do if we sell enough chocolates! 
Thank you for supporting your PTA!
Lucretia Shatzer - PTA President
Let's Welcome our New Assistant Principal
I would like to welcome our new Assistant Principal Mrs. Mondragón. She is going to be a great addition to our Mountain Shadows family. She comes with a lot of experience and great insight. She has jumped right into the position with ease. We're so lucky to have her here! When you see her around please show her our great school spirit and welcome her to Mountain Shadows.
Message from Mrs. Mondragón:
My name is Shana Mondragón, and this is my fourth year with Jordan School District. I am currently the assistant principal at Mountain Shadows Elementary and Oakcrest Elementary. Prior to this assignment I was an instructional coach at Oquirrh Elementary and a sixth grade teacher at Daybreak Elementary School. I also have experience in Wyoming working in special education, second grade, and sixth grade.
I was born and raised in Michigan, but have lived in states all over the country including Louisiana, Kentucky, West Virginia, Georgia, Texas, Wyoming, and Utah.
I have a Bachelor's of Science in Psychology and Sociology from Troy University, a Master of Education with a focus on Elementary Education from Regis University, and a Master of Education with a focus on Educational Leadership from Southern Utah University. I have earned an ESL endorsement from Southern Utah University and have completed the mentor teacher training for Jordan School District. I am also a Google Certified Educator, which supports using online tools to work and communicate more efficiently in our classroom.
I'm looking forward to working with the students, parents, faculty and staff at Mountain Shadows.
Smith's Inspiring Donations Program
If you shop at Smith's and would like to help support Mountain Shadows all at the same time, you can enroll in the Smith's Inspiring Donations Program. You can designate Mountain Shadows Elementary as your recipient. Our school number is YL923.
You can even spread the word to your family members and friends. Thank you for supporting our school!
Rocky Peak Virtual Elementary School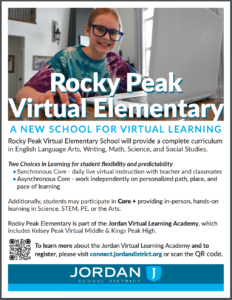 New Rocky Peak Virtual Elementary School Information
Dear Parents/Guardians,
Jordan School District is offering an amazing opportunity for virtual learning next school year (2021-2022) with Rocky Peak Virtual Elementary.
Many parents and students had wonderful experiences with virtual learning this school year. Jordan District wants to continue offering those great experiences to students and parents. If you choose to register your child in Rocky Peak Virtual Elementary, your child will not be enrolled at Mountain Shadows Elementary at the end of the school year. We understand this is a decision you'll need to make as a family, please read over the information to make an informed decision.
Rocky Peak Virtual Elementary school information and Pre-Registration Form can be found at  connect.jordandistrict.org
You can hear from the newly appointed principals for each school and find out how this personalized learning will focus on the individual student in this week's episode of the "Supercast" podcast hosted by Superintendent Dr. Anthony Godfrey.
You can listen to the "Supercast" by clicking on the link below:
Find out how the Jordan Virtual Learning Academy is different from anything we've done before and how your student can sign up.
Meet the principals of our new virtual schools by watching this video.
Thank you,
Tina Susuico
Principal
Friday's Schedule Effective Jan. 22, 2021
Teachers will inform parents if their child will need to come to school on Fridays for small group instruction. The new time for small group instruction will be from 9:00am - 11:30 am. Your child's teacher will let you know the exact time for you to drop off and pick up your child.
Lunch is still being served from 11:30am - 12:00 pm. Please call the cafeteria by 9:00am to inform them.
KINDERGARTEN REGISTRATION 2021-2022 SY
Kindergarten registration for the 2021 - 2022 school year is NOW OPEN. If your child turns five on or before September 1, 2021, he/she can enroll in kindergarten. You can begin registration here:
We're looking forward to seeing our new kindergartners in the fall.
Help Wanted
There is a substitute shortage in the District; we have been brainstorming ways to support this situation at our schools and realized that many people may not know some things about substituting that make it a great job:
 You can sign up to sub ONLY at your neighborhood school

You can sub only for specific grades or teachers.
We are so fortunate to have wonderful parents and community members who substitute at our school! We are in need of more! You can sub only half days (morning or afternoon). You can sub on specific days of the week. You can register to be a substitute and only sub for a few specific days of the school year.
As you can see, there are many options for substitutes! To learn more about substitute compensation rates and how to apply visit
Mountain Shadows Reopening Plan
Hello Mountain Shadows Families,
Welcome back! We are looking forward to working with your student(s) this school year. We are so excited to see our students. We know this school year will look very different from years past. We want to assure you that Mountain Shadows continues to be committed to excellence in all that we do. This includes making the health and safety of our students and staff a top priority. We know the challenges related to the COVID-19 pandemic, we have created the following reopening plan in an effort to mitigate the spread of the virus and create a culture of safety and respect among our entire school community. The plan meets the requirements established by both the State and the District, and also addresses routines, procedures, and expectations specific to Mountain Shadows Elementary. Please know that the development of this plan is ongoing and is something we have never done before. We will learn as we go and make adjustments based on the needs of our students, staff, and our school community. We thank you in advance for your patience and understanding as we work together to make the upcoming school year a positive experience for all.
Please carefully review the procedures and protocols outlined in this plan. We appreciate your support and cooperation as we make every effort to keep our students, staff, and community healthy and safe. If you have questions or concerns regarding this plan, please contact me and I would be happy to assist you.
Sincerely,
Tina Susuico - Principal
Please click on the link below to review our school's reopening plan.
Returning and New Enrolling Students Registration
Parents/Guardians if your child is returning to Mountain Shadows please log into Family Access in Skyward  and click on Registration. Please update all information. This should be done yearly for returning students. Parents can register their child from August 11 - September 14, 2020.
If your student is enrolling in Mountain Shadows, please go to the Jordan School District website jordandistrict.org
Go to Parents & Students
On the dropdown menu click on Registration & Enrollment
Then click on "Click here to create a temporary account for New Student Enrollment"
Follow the registration process.
Principal's Message
Hello Mountain Shadows Families,
I wanted to extend my great appreciation for your patience and understanding during these unprecedented times. I want you to know our faculty and staff at Mountain Shadows are working hard to prepare for the upcoming school year. We have developed our school's reopening plan. Once our plan is approved, I will share it on our school's website as well as through Skylert communications. We have developed our reopening plan with safety precautions in mind for our students and staff. This school year will look differently from previous school years. I wanted to extend my sincere appreciation for your kindness and support during these times.
Sincerely,
Tina Susuico, Principal
Online Learning Option
If you would like your child to enroll in virtual learning for the 2020-21 school year, please visit the link below. A request must be completed for each child. Students who sign up for virtual learning will have the choice to return to learning in person for second semester. Registration is due by Friday, July 31, 2020.
Students who choose to enroll in the K-12 virtual learning options will also stay enrolled in their current boundary or permit school. Connections to your home school can still be maintained through counselors, administration, and mentors.

Secondary students can choose to take some classes in person and some classes virtually.

Students enrolled in virtual learning will have daily interaction with teachers.

Teachers will have scheduled office hours to answer questions.

Teachers will have scheduled instructional times that can also be recorded for later viewing.

Services through Special Education will be provided either through your local school special education staff or through an online special education teacher, depending on needs and enrollment numbers.

Dual Language Immersion (DLI) students will have the option to participate in the target language portion of their day online through live broadcasting of classes or in person, even if the English part of their day is taken virtually.

ALPS classes will be available virtually in all grades.

K-8 Jordan School District teachers will be providing the virtual instruction for students assigned to their courses. Core courses in the areas of reading, writing, math and science were specially developed by JSD teachers over the summer. These courses follow the Utah Standards and Jordan District expectations for students.

Canvas will be used as the Learning Management System for these courses to provide for a consistent tool.

Teachers may use other tools to supplement their learning styles, but the main courses will be outlined in Canvas.

9-12 students will continue to have options to enroll in a variety of virtual courses in order to fulfill their graduation requirements. Some courses will be taught by JSD teachers working from home, others will be taught by already existing online program options.

Core classes as well as a variety of elective courses are available.

Every elective course may not be available online.

Additional mentoring support can be provided to help students with individual needs.
Questions regarding virtual online education from Jordan School District can be sent to ross.menlove@jordandistrict.org (K-6) or ammon.wiemers@jordandistrict.org (7-12).
Jordan School District's Reopening Plan
For more information about Jordan District's reopening plan for the 2020-2021 school year, please click the link below.
Jordan District's 20-21 Reopening Plan
First Day of School for Kindergarten (2020-2021)
The first day of school for kindergarten students will be Wednesday, September 2, 2020.
Kindergarten testing will be scheduled August 25 - September 1.
First Day of School for 1st - 6th Grade (2020-2021)
The first day of school for students in grades first through sixth will be Tuesday, August 25, 2020.
Did You Know...
School Office Hours-  8:00 - 3:30
Don't forget to like our Facebook page too!
---