Mountain Shadows Elementary
Home of the Cubs



---
Notice:  You will always be
asked to show your photo ID
when checking out your child
during the school day.
Please plan on this before coming in.
Daily Schedule
AM Kndg. M-Th 8:25 - 11:10

PM Kndg. M-Th 12:25 - 3:05

1st - 6th Grade  M-Th 8:25 - 3:05
KINDERGARTEN REGISTRATION 2021-2022 SY
Kindergarten registration for the 2021 - 2022 school year is NOW OPEN. If your child turns five on or before September 1, 2021, he/she can enroll in kindergarten. You can begin registration here:
We're looking forward to seeing our new kindergartners in the fall.
Red Ribbon Week Oct. 12 - 15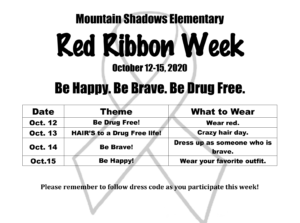 Help Wanted
There is a substitute shortage in the District; we have been brainstorming ways to support this situation at our schools and realized that many people may not know some things about substituting that make it a great job:
 You can sign up to sub ONLY at your neighborhood school

You can sub only for specific grades or teachers.
We are so fortunate to have wonderful parents and community members who substitute at our school! We are in need of more! You can sub only half days (morning or afternoon). You can sub on specific days of the week. You can register to be a substitute and only sub for a few specific days of the school year.
As you can see, there are many options for substitutes! To learn more about substitute compensation rates and how to apply visit
Change Requests for Virtual or In-Person Learning
Dear Parents/Guardians,
If you would like to request a change to your K-6 student's Quarter 2 learning option, either moving to in-person or moving to virtual, please complete the "Quarter 2 Virtual/In-Person Change Form" in Skyward Family Access by Tuesday, October 6 at 11:59 p.m. (see instructions below) Space available in virtual and in-person classes is limited. Not all requests can be accommodated and the deadline cannot be extended.
Only complete this form if you would like to change your student's current learning option.

This Skyward form is the official request list for Quarter 2. Even if you were on a school's waiting list for Quarter 1 changes, you need to complete this form to be considered for a change in Quarter 2.

A separate request form is required for each student.

After the October 6th deadline all requests will be reviewed based only on space availability for both in-person and online classes.

If more requests are submitted than spaces are available, open spaces will be filled using a lottery method. Parents will be contacted by the local school on or before October 16th with information about your requested learning option for each student.

Any changes made will be in effect at the start of Quarter 2 which begins on October 27th.

Once committed to in-person or virtual learning your student must continue with that selection for the duration of the next quarter.

The district reopening plan will be in place through the end of December and will be reviewed again in November 2020.
How to Complete the Quarter 2 Virtual/In-person Change Form Skyward Access Instructions:
You will need to log in to Skyward Family Access in a web browser. This form cannot be accessed in the mobile version of Skyward.  If you need assistance with your Skyward login and password, please contact your school.  Once logged in, select the link for "Online Forms" in the tabs on the left.  Select the student for whom you want to submit a request. There are two steps that need to be completed.  On step 2, you must select "Submit Quarter 2 Virtual/In-person Change" to complete the form. You will receive a confirmation email after you have completed the form. If you do not receive this confirmation email, please contact your school.
Grade Transmittal Day - NO SCHOOL
There will be No School on Monday, October 26, 2020.
Fall Break - NO SCHOOL
Fall Break will be October 19 - October 23, 2020.
Picture Day
School pictures will be done on Thursday, October 15, 2020 from 8:30 am to 1:15 pm. 
School pictures for online students will be done on Thursday, October 15, 2020 from 1:15 pm - 2:30 pm.
Boo Hoo Breakfast to Go Hosted by PTA
We are so exited to welcome our kindergarteners to school tomorrow!
Mountain Shadows Elementary PTA will be set up outside, east of the building, to treat all kindergarten parents to a Boo Hoo Breakfast to go!
Stop by PTA's table after you drop off your kindergartener and grab a prepackaged breakfast snack! If you're interested in joining the PTA let one of the members know and they will be happy to help you.
Friday Schedule
Hello Mountain Shadows Families,
On Fridays, teachers will be working with students one to one and/or in small groups to review content taught in class. Your child's teacher may ask that your child attend school in person or meet with the teacher via Zoom or Google Meet at a certain time. Your child's teacher will contact you to inform you if he/she will be meeting with your child and the time. Teachers will be available for parent/teacher communication 10:00 am to 10:30 am. Teachers will be working with students from 10:30 am to 11:30 am and 12:00 pm to 1:30 pm.
Students will be provided a breakfast and/or lunch. It will be served from 11:30 am - 12:00 pm. Your child's account will be charged for their meals. Students need to come to school in order to receive their own meal(s). It will be a grab-and-go breakfast and/or lunch. Students will line up on the green dots outside the cafeteria doors and escorted into the cafeteria to receive their meals.
Please call our cafeteria at 801-302-4845 by 9:00 am on Fridays to request a meal. It helps our cafeteria staff to prepare the appropriate amount of meals for the day. 
NOTE: Crossing guards will be at the crosswalks from 11:15 am to 12:15 pm.
Online Learners' Lunches ONLY (Revised)
Hello Mountain Shadows Cubs!
We're so excited to offer our online students' lunch at school. Online student lunches will be served in our cafeteria from 1:15 p.m. to 1:30 p.m. Our amazing cafeteria staff will be serving only Mountain Shadows' students. The lunch room will be open until 1:45 pm. Lunch accounts will be charged. There will not be a crossing guard on duty during these times.
Procedures for Lunch
Parents please call our lunch room by 9:00 a.m. if your child plans to eat a school lunch.You will need to call each day to inform our cafeteria staff if your child will be eating a school lunch. The number is 801-302-4845. By taking lunch counts daily, it will help our lunch workers prepare the appropriate amount of lunches each day.
Students should arrive by 1:15 p.m. to receive lunch.
Students will line up on the green dots outside the cafeteria doors (where students line up for breakfast).
Students will be escorted into the cafeteria to get their lunches.
Our lunch clerk will scan your child's lunch number to charge your child's account for the lunch.
Students may take their lunches home to enjoy.
Thank you for your patience and understanding during these changes!
Upcoming School Year Adjustments
Hello Mountain Shadows Families,
I would like to start off by thanking you for being patient during preparations for the new school year. Many of you are wondering who your child's teacher will be this year. We are working tirelessly to get our class lists finalized. Your child's new teacher will be contacting you this week to introduce himself/herself. Please understand that changes were made to class lists from the end of last school year  because some of our teachers will be teaching online as well as some of our students will be learning online starting this school year. Class lists had to be revised to reflect these changes. We appreciate your kindness and support during these unprecedented times. We look forward to working with you and your child this year. Please take care and stay healthy.
Mountain Shadows Reopening Plan
Hello Mountain Shadows Families,
Welcome back! We are looking forward to working with your student(s) this school year. We are so excited to see our students. We know this school year will look very different from years past. We want to assure you that Mountain Shadows continues to be committed to excellence in all that we do. This includes making the health and safety of our students and staff a top priority. We know the challenges related to the COVID-19 pandemic, we have created the following reopening plan in an effort to mitigate the spread of the virus and create a culture of safety and respect among our entire school community. The plan meets the requirements established by both the State and the District, and also addresses routines, procedures, and expectations specific to Mountain Shadows Elementary. Please know that the development of this plan is ongoing and is something we have never done before. We will learn as we go and make adjustments based on the needs of our students, staff, and our school community. We thank you in advance for your patience and understanding as we work together to make the upcoming school year a positive experience for all.
Please carefully review the procedures and protocols outlined in this plan. We appreciate your support and cooperation as we make every effort to keep our students, staff, and community healthy and safe. If you have questions or concerns regarding this plan, please contact me and I would be happy to assist you.
Sincerely,
Tina Susuico - Principal
Please click on the link below to review our school's reopening plan.
Returning and New Enrolling Students Registration
Parents/Guardians if your child is returning to Mountain Shadows please log into Family Access in Skyward  and click on Registration. Please update all information. This should be done yearly for returning students. Parents can register their child from August 11 - September 14, 2020.
If your student is enrolling in Mountain Shadows, please go to the Jordan School District website jordandistrict.org
Go to Parents & Students
On the dropdown menu click on Registration & Enrollment
Then click on "Click here to create a temporary account for New Student Enrollment"
Follow the registration process.
Principal's Message
Hello Mountain Shadows Families,
I wanted to extend my great appreciation for your patience and understanding during these unprecedented times. I want you to know our faculty and staff at Mountain Shadows are working hard to prepare for the upcoming school year. We have developed our school's reopening plan. Once our plan is approved, I will share it on our school's website as well as through Skylert communications. We have developed our reopening plan with safety precautions in mind for our students and staff. This school year will look differently from previous school years. I wanted to extend my sincere appreciation for your kindness and support during these times.
Sincerely,
Tina Susuico, Principal
Online Learning Option
If you would like your child to enroll in virtual learning for the 2020-21 school year, please visit the link below. A request must be completed for each child. Students who sign up for virtual learning will have the choice to return to learning in person for second semester. Registration is due by Friday, July 31, 2020.
Students who choose to enroll in the K-12 virtual learning options will also stay enrolled in their current boundary or permit school. Connections to your home school can still be maintained through counselors, administration, and mentors.

Secondary students can choose to take some classes in person and some classes virtually.

Students enrolled in virtual learning will have daily interaction with teachers.

Teachers will have scheduled office hours to answer questions.

Teachers will have scheduled instructional times that can also be recorded for later viewing.

Services through Special Education will be provided either through your local school special education staff or through an online special education teacher, depending on needs and enrollment numbers.

Dual Language Immersion (DLI) students will have the option to participate in the target language portion of their day online through live broadcasting of classes or in person, even if the English part of their day is taken virtually.

ALPS classes will be available virtually in all grades.

K-8 Jordan School District teachers will be providing the virtual instruction for students assigned to their courses. Core courses in the areas of reading, writing, math and science were specially developed by JSD teachers over the summer. These courses follow the Utah Standards and Jordan District expectations for students.

Canvas will be used as the Learning Management System for these courses to provide for a consistent tool.

Teachers may use other tools to supplement their learning styles, but the main courses will be outlined in Canvas.

9-12 students will continue to have options to enroll in a variety of virtual courses in order to fulfill their graduation requirements. Some courses will be taught by JSD teachers working from home, others will be taught by already existing online program options.

Core classes as well as a variety of elective courses are available.

Every elective course may not be available online.

Additional mentoring support can be provided to help students with individual needs.
Questions regarding virtual online education from Jordan School District can be sent to ross.menlove@jordandistrict.org (K-6) or ammon.wiemers@jordandistrict.org (7-12).
Jordan School District's Reopening Plan
For more information about Jordan District's reopening plan for the 2020-2021 school year, please click the link below.
Jordan District's 20-21 Reopening Plan
First Day of School for Kindergarten (2020-2021)
The first day of school for kindergarten students will be Wednesday, September 2, 2020.
Kindergarten testing will be scheduled August 25 - September 1.
First Day of School for 1st - 6th Grade (2020-2021)
The first day of school for students in grades first through sixth will be Tuesday, August 25, 2020.
Did You Know...
School Office Hours-  8:00 - 3:30
Don't forget to like our Facebook page too!
---